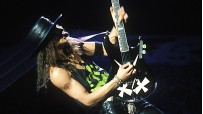 As of Week 12, DeGarmo is in third place and in the playoffs.
Welcome to SportsNation! On Thursday, fantasy football stud and Queensryche co-founder, Chris DeGarmo, will stop by to take your questions about The Life's "Alice in Chains & Friends Fantasy Football Charity League," which features some of rock music's biggest stars, his music career and just about anything else you may want to ask!
Each member of the charity league has put up a valuable piece of memorabilia to be auctioned off with the money going toward the league champion's charity of choice. Cantrell is playing for Musicares which provides a safety net of critical assistance for music people in need.
Send your questions now and join DeGarmo Thursday at 1 p.m. ET!
For those of you that're not aware of it, Chris is a part of the AIC&FFFCL.
That stands for Alice In Chains & Friends Fantasy Football Charity League.
Here's a regularly updated spot for the current tally.
.
that will go up for auction at ebay. The proceeds will then go
to the winner's chosen charity.
for his.
His team is called MACH SIX.